Designing for small to medium sized businesses, specialising in Website Design, Branding & Marketing Material.
A design agency based in Revesby, Sydney.
Delivering a personalised branding and website design experience for all our clients, big or small.
Web Development
Responsive WordPress website design specialist. One page design, content websites, ecommerce sites, we can do them all. Bring your brand to life online.
Brand Identity
Branding for all areas of the business including Logo Design, Marketing Material, Digital Media and much more. Stand out from the crowd.
Graphic Design
Beautiful eye catching design to make your next requirement pop! Whether it be business cards, flyers, menus, Facebook banners and more!
Business Packages
Attract new customers with an appealing brand across all your touch points, with branding packages available across all media to suit.
Marketing
Strategic marketing services and support to ensure you're connecting with new and existing customers regularly through social media and all available channels.
Consultancy
Project-based or year-round, we work collaboratively with clients to bring new ideas to the table, taking the strain off the internal team and resources.
Reach your audience across multiple devices with a responsive website!
Futureproof your website and look great on all devices!
Thanks to the proliferation of mobile devices and handheld gadgets, websites these days are accessed on a wide array of platforms – each one having its own operating system, browser, screen resolutions and what not. It is impractical to develop different versions of your website to make sure the website shows up properly in each of these devices. This is where a responsive website can help you.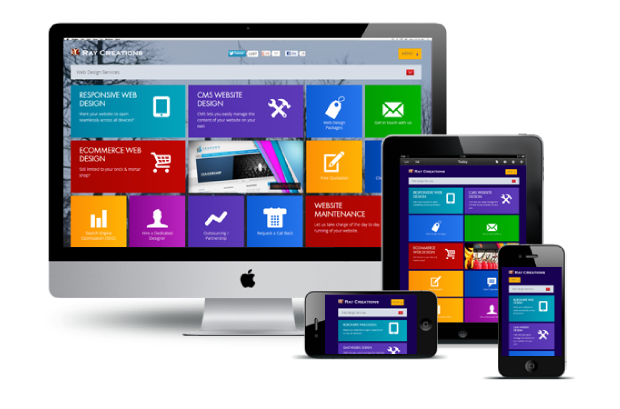 Why responsive web design?
Advantages of having a responsive website are a multitude. The most visible of course is that your website adjusts itself based on the user's device and screen resolution. As responsive sites offer great user experience, you can notice improved conversion from visitors that browse your site on mobile or tablet devices. Responsive websites are also cost-effective, as you only need to maintain one version of the website. Apart from this, Responsive sites are also highly recommended by search engines like Google as they avoid duplicate content issues. This would mean improved ranking performance for your websites. 
Worlds population will be mobile connected by the year 2025!
Click below to contact us to see what we can do for you!
Let's Start Something new

Say Hello!
Fill out the form below to get in touch with us!